Cleveland Pediatrics was founded in 1976 by Dr. John Murphy. When our practice began, our facilities consisted of only one building, which is our current Illness Center.  In 2006, we were fortunate to expand into an adjacent building. This provided us the unique opportunity to have separate "illness" and "wellness" buildings. We see children for routine checkups in the wellness building, preventing well children from coming into contact with illness in our 'regular' building.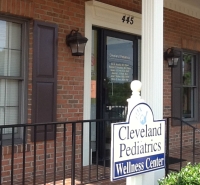 We accept most commercial and BCBS insurance plans, as well as all TennCare plans. We ask that you present your current insurance card at every visit.  If you are a Tenn Care insured, you must assign Cleveland Pediatrics as your PCP with your  Tenn Care plan.
Our practice consists of a staff of four Board Certified Pediatricians, two full time nurse practitioners, and several nurses. We work with Tennova Medical Center, evaluating and managing newborns in the nursery as well as admitting ill children to our pediatric floor. Additionally, Cleveland Pediatrics has a long-standing networking and referral relationship with the physicians and staff at T.C. Thompson Children's Hospital in Chattanooga, and with East Tennessee Childrens Hospital in Knoxville.
Now parents can also access the medical records online on our